American Heart Association BLS for healthcare providers practice test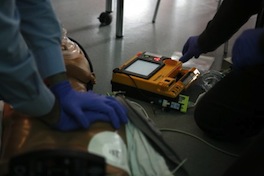 Basic Life Support (BLS) for healthcare providers is a course run by the American Heart Association (AHA). It is designed to give healthcare professionals the skills and confidence to deal effectively with emergency situations.
The course covers Cardiopulmonary Resuscitation (CPR), defibrillation and choking. You'll need to pass a test / exam in order to pass the BLS for healthcare providers course.
We've got a range of practice tests which can help you pass your AHA BLS for Healthcare Providers exam.
Cardiopulmonary Resuscitation
Prepare for your AHA exam by taking our Adult CPR practice test. If you also need to revise pediatric skills then have a go at our baby & child CPR practice test.
Our Adult CPR test has been updated with the latest 2015 CPR Guidelines.
Use of a defibrillator
If you need to revise how to use a defibrillator for your AHA exam then try our free defibrillator practice test. Many healthcare centres keep a defibrillator in case of cardiac arrests.
Choking
Our free choking practice test is a great way to revise the current choking algorithm. It is important for all healthcare professionals to know how to deal with choking as this is a common emergency situation.
Want to learn more about first aid?
If you've enjoyed taking an AHA BLS for Healthcare Providers course then why not sign up to a free online first aid course over at firstaidforfree.com. They offer a range of free first aid training including basic first aid, advanced first aid, pediatric first aid and use of a defibrillator.