Hello there! Welcome to CPR Test where you can take free online CPR tests and practice exams.
I'm John, I've been a first aid instructor and lifeguard for over 10 years. I created CPR Test as a free and easy way to test your CPR knowledge online.
Cardiopulmonary Resuscitation (CPR) is a lifesaving first aid skill which can improve the survival of cardiac arrest victims. A cardiac arrest is when the heart stops beating, often it is fatal and over 90% of victims die before reaching a hospital.
Prompt & effective CPR dramatically increases chances of survival. I believe everyone should have the opportunity to learn CPR online for free.
So what's the catch? None! Start working through our free CPR practice tests in your own time.



Adult CPR TestBaby & child CPR TestChoking TestDefibrillator TestFirst Aid Test
Features
– No registration required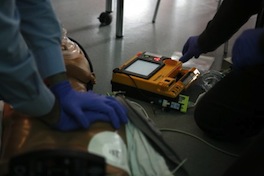 – No cost (100% free)
– Updated with the latest 2015 CPR guidelines
– A range of online CPR and first aid tests
– Adult & baby CPR tests
What is CPR?
Want to learn more about Cardiopulmonary Resuscitation? Visit our friends over at What is CPR? to learn about this lifesaving skill.
Free online first aid course
Our friends over at firstaidforfree.com offer free online first aid courses which you can work through in your own time. The courses they offer include:
Basic first aid and CPR
Advanced first aid
Pediatric first aid
Use of a defibrillator (AED)
Each course comes with a free first aid & CPR certificate!