CPR statistics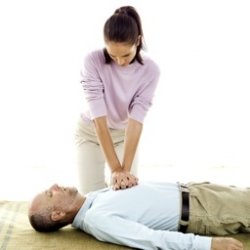 Each year in the United States more than 300,000 people die from an out of hospital cardiac arrest (where the heart stops beating). Unfortunately, cardiac arrest kills more than 90% of victims before they reach hospital. (1)
Early cardiopulmonary resuscitation is key to improving survival rates from a cardiac arrest. Without bystander CPR (before an ambulance arrives), the survival rate is as low as 2%. With early CPR, this survival rate rises to 5 – 10% (2).
Combined with early defibrillation, the survival rate can rise to as much as 30%.
Brain damage occurs 4 minutes after a cardiac arrest with no bystander CPR. (3)
Our free online CPR practice tests can help you improve and develop your knowledge of cardiopulmonary resuscitation. We've got a range of practice tests covering adult CPR, baby & child CPR, choking and using a defibrillator. These practice tests are also an ideal way of preparing you for any upcoming CPR exams or assessments.
What is CPR?
Visit our friends over at What is CPR? to learn the science behind cardiopulmonary resuscitation.
References
1 – http://www.frca.co.uk/article.aspx?articleid=100884
2 – http://www.webmd.com/content/article/32/1728_79637.htm
3 – http://www.becpr.org/facts_statistics.aspx