American Heart Association Basic Life Support test questions and answers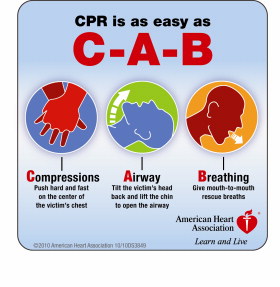 Are you preparing for an American Heart Association Basic Life Support (BLS) test? Here's some practice questions and answers to help you prepare!
If you want to revise basic life support techniques then signing up to a free online CPR course can be a great way to refresh your knowledge of cardiopulmonary resuscitation.
Basic Life Support practice questions
What should be your first action upon finding a collapsed victim?
How should you open the airway?
How long should you spend checking for breathing?
What should your first action be upon finding a victim isn't breathing normally?
At what rate should you deliver chest compressions
How deep should your chest compressions be?
When should you stop CPR?
How should you deliver rescue breaths to an infant?
Here are the answers to our BLS practice questions
Basic Life Support practice questions – answers
Check the scene for any dangers / hazards
By tilting the head back and lifting the chin
No more than 10 seconds should be spent checking for breathing
Call for emergency medical help (if not already done so)
100 – 120 per minute
5 – 6 cm
If the victim shows signs of recovery. If you are told to stop by a healthcare professional. If you become too exhausted to continue. If the scene becomes dangerous.
By making a seal over their mouth and nose